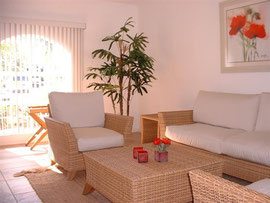 After entering the house, the cozy seating area on your left invites you to relax from your day trip. Write a postcard to your friends or read one of the exciting books, there are plenty for all interests on the shelf. Enjoy the fantastic water views and the direct access to the swimming pool.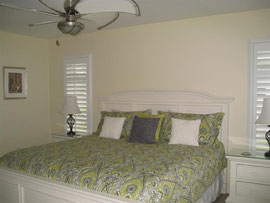 In the Master Bedroom to the left you will sleep in the comfort of a king-size mattress. Watch the latest news on our new flat screen TV. From here you have direct access to the pool too. You have your private bathroom with shower, double sink and toilet. A hair dryer and plenty of towels and bath towels are ready for you.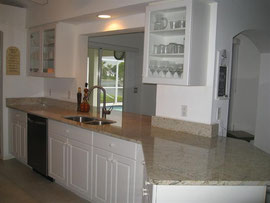 The open kitchen and dining area are the center piece of the house and separate the two living and sleeping areas. We recently equipped the modern kitchen with new stainless steel appliances and also added a unique, bright granite countertop. The big refrigerator has a built-in ice maker and a filter, which processes the tap water into drinking water. Our kitchen is fully equipped - you will not miss anything.
The laundry room is adjacent to the kitchen. The brand new washer and dryer are quite easy to use, instructions can be found in the sideboard in the dining area. From here you enter the large, air-conditioned double garage.
The dining area is linked to the open kitchen. The dining table comfortably seats six people. For the little ones we provide a child seat, which is very easy to mount on one of the chairs.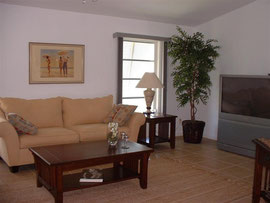 In the family room you can watch TV on the big screen, that makes playing on the Wii even more realistic. Settle down with a glass of wine. On the two very comfortable sofas you can also take a nap during daytime.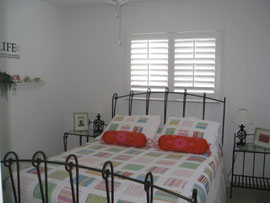 Our second and third bedrooms each have a spacious queen-size bed. Both rooms are tastefully furnished and come with a walk-in closet. In each room there is a TV. The rooms share a bathroom that has direct access to the pool area.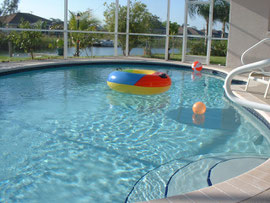 Our pool is very well suited for children at all ages. Here you can enjoy the sun until the early evening hours and then when it gets too warm, you can cool off on the shaded terrace with a sip on your ice cold cocktail. There the outdoor fan whirrs softly, fanning you with cool air. On our large gas grill you can prepare your perfect "Surf and Turf" All American BBQ and serve it to up to six people on the large outdoor dining table. In the evening, listen to the sound of silence and let the illuminated pool get you into a romantic mood. Relax and wish with a final drink at the waterside, that your dream vacation will never end.
Overview Amenities
                
amenities


Master Bedroom

king-size bed, drawer, 2 nightstands, alarm clock,

flatscreen TV, private bathroom

Guestroom 2

queen-size bed, 2 nightstands, flatscreen TV,

poolbath

Guestroom 3

queen-size bed, 2 nightstands, TV, poolbath

Bathroom 1     

shower, double sink, toilette




Bathroom 2




bath tub, toilette, pool access




Living room




wicker furniture, 3 seat sofa, 2 armchairs, plenty of books and family games, WLan


Kitchen

stainless steel appliances, dish washer, oven, microwave, refrigerator with waterfilter and icemaker, coffeemaker, Senseo coffeemaker, blender, toaster, all you can use

kitchenware, Granite countertop and kitchen bar and barstools


Dining area




table with six chairs, mountable child seat




Laundry room




washer, dryer,iron, ironboard




Garage




cooler, beach umbrella, fishing equipment, pool- and

beachtoys, two beach chairs, vacuum cleaner, cleaning gear


Family room




large TV screen, DVD player, HiFi system with iPod

connector, 3 seat sofa, two seat sofa, music CDs, movie

DVDs, printer, WLan, free internet access 

Pool area 




stainless steel gas BBQ grill, outdoor table with six chairs, two Adirondeck chairs with side table, six sun lounger