What do you want to do today ?
The possibilities for recreational and sporting activities are endless in and around Cape Coral and Fort Myers. Southwest Florida is a paradise for sunbathers, golfers, anglers and water enthusiasts. We have put together a few things to do in the city and in the surrounding area.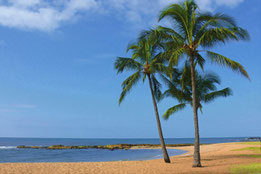 There is a beautiful little beach at Cape Coral's old harbor with a playground, restaurants and fishing pier.
It is only a 20 - 30 minutes drive to the beautiful beaches of Ft. Myers Beach, Sanibel and Captiva Island. With the snow-white and fine-grained sandy beaches, the sea and the lush vegetation, they are among the ten most beautiful beaches in America.
Fort Myers Beach is ideal for families with children, since the entire beach is characterized by shallow water. Often you can see dolphins from the beach. There are a lot of sporting activities such as water skiing, wind- and kite surfing, surfing, sailing, jet skiing, parasailing. There is a good selection of beach bars and restaurants.
A little further along the beach, it is quiet and you can enjoy a wonderful day at the beach.
Captiva and Sanibel Island is where miles and miles of pristine white beaches invite you to endless walks in an often deserted nature. Sanibel is also known as a paradise for shell collectors. The majority of the island is designated as a national park (Ding Darling National Wildlife Refuge). Take a guided tour through the nature trails.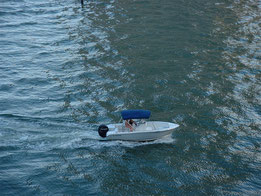 At the Marina of Cape Coral, you can rent a boat daily and then immediately go out to the Gulf of Mexico. Or you rent your boat in Ft. Myers Beach or in Matlatcha and take a fishing trip. In Florida you don't need a boating license, all boats can be rented daily, weekly or on a monthly basis, and of course, you get a detailed boat instruction.
There are also numerous boat trips that you can book. You just need to choose whether you want to spend only a few hours on the water or whether the tour should last all day. There are exciting excursions into the Gulf of Mexico, Sunday brunch cruises, or even different themed cruises.
www.german.capecoral-charterboats.com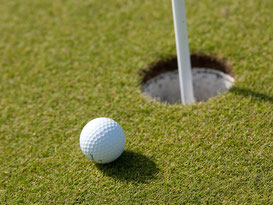 The area around Cape Coral is an absolute golfers paradise and golf courses in Cape Coral and Fort Myers are among the best in Florida. These 3 golf courses can be booked without a club membership.
Royal Tee Golf Club: 11460 Royal Tee Circle, Cape Coral, Telefon: 283-5522, Yardage: 6736 / 27 Loch / Par 72, Cart- und Schlägerverleih / Clubhaus / Snackbar
Coral Oaks Golf Course: 1800 NW 28th Avenue, Cape Coral, Telefon: 573-3100, 

Yardage: 6623 / 18 Loch / Par 72, Cart- und Schlägerverleih / Clubhaus / Restaurant
Hunters Run: 1006 SE 4th Pl, Cape Coral, Telefon: 574-4454, Yardage: 3530 / 9 Loch / Par 60, Cart- und Schlägerverleih / Clubhaus / Restaurant
Yacht Club Community Park – Tennisanlage am Cape Coral Yachthafen – 5819 Driftwood Parkway, Cape Coral
Mariner High School – 701 Chiquita Boulevard, Cape Coral
Hancock Bridge Community Park – 2211 Hancock Bridge Parkway, Cape Coral
Cape Coral High School – 2300 Santa Barbara Boulevard, Cape Coral
Gulf Middle School – 1809 SW 36th Terrace, Cape Coral
Fort Myers Country Club – Tennisplätze sind auf dem Gelände des Golfclubs – 1445 Hill Ave., Fort Myers
Fun activities for the whole family
Castle Golf, 7400 Gladiolus Dr., Fort Myers, Tel: (239) 489-1999
Jungle Golf, 17710 San Carlos Blvd, Fort Myers Beach, Tel: (239) 466-9797
Mike Greenwell's, 35 NE Pine Island Rd. Cape Coral, Tel: (239) 574-4386
Smuggler's Cove, 17450 San Carlos Blvd, Fort Myers Beach, Tel: (239) 466-5855
These are the most beautiful destinations in the vicinity
Fort Myers is famous for the magnificent palm-lined McGregor Boulevard and the Edison & Ford Estates Museum. The former winter estate of Thomas Edison and Henry Ford with the historic buildings, the large gardens, the laboratory and the museum. 2350 McGregor Boulevard, Fort Myers, Phone: (239) 334-7419. www.fortmyers.org
Babcock Wilderness Adventures Adventures in Punta Gorda. Experience alligators and panthers on a swamp buggy trip (swamp vehicles) right through the wilderness. The address is: 8000 State Road 31, Punta Gorda, Phone: 800/500-5583. www.babcockwilderness.com
At Busch Gardens in Tampayou will experience a unique blend of adventure rides, live shows, restaurants, shops, games and one of the best zoos in the country with more than 2,000 animals. www.busch-gardens.com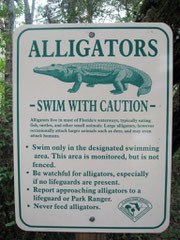 Here is a list of destinations that are a little further away – but make sure to see all of them. There is never enough time to see all of what Florida has to offer – anyway you have to come back! And when you come back, you are always welcome at Villa Nightfall!